Part 7: Sex & Samadhi
Review
"Startlingly original and compulsively readable, the sixth installment of Evan & Ella, 'Compassion vs. Kundalini,' was a clever, ironic, mordant, and flat-out hilarious commentary on the lives of two of today's globetrotting twenty-somethings. While Ella recovered from her depression (induced by a traumatizing affair with a spiritual teacher in Bodhgaya, India), lived among Nepalese nomads, and attended tantric initiation ceremonies with the Dalai Lama, Evan took a vow of celibacy—determined to live the holy life of a yogi on the banks of the River Ganges, iPod fully charged. But in a multithematic paean to the complexity of our postmodern world, our protagonists' lives took surprising turns, sending Ella head-over-heels for a Tibetan tantric master, and leaving Evan high, dry, and still looking for a guru. Ladies and gentlemen, does it get any better than this?"
—Marco von Peet, Die Münchener Republik
From: "Ella Paris" <ellaparis@hotmail.com>
To: "Evan McAllister" <glassyzen@yahoo.com>
Date: Thu, 10 Mar 2005 18:41:10 (IST)
Subj: tantra treo fun
Dear Evan,
Sorry that I haven't written you in a long time. I'm not even sure that you will get this—even though it appears that my Treo is working, I've never heard of anybody using one from the Himalayas. I got it as a gift from my mom. She got really worried when she heard I was setting off for the mountains and FedEx'ed me one overnight.
You're probably wondering what I'm doing . . . remember I told you that Terso has a retreat center? Well it turns out that it's located in this mountain range southeast of Dharamsala . . . and get this . . . it's a bona fide cave. Yeah. Like the ones saints and hermits live in. It took us three days to trek up here and to be honest it's not what I imagined. It's dry and comfortable. There's a gas stove, books, old Tibetan thangkas on the walls, and a bed. I really can't figure out how he got that here. But anyway, it is beautiful—especially at night when the inside is illuminated with candlelight and outside the moon is shining on all of the mountain peaks.
What happened was that I was in Dharamsala for three weeks and spending a lot of time with Terso who was teaching me about Tantra. All of my first impressions of him were true—he's one of the most beautiful people I've ever met. I guess you could say he has become my guru of sorts. Within the Tantric tradition it's crucial to have a teacher to guide you through the various levels of initiation and study. After awhile Terso began thinking that I was ready to start going deeper into Tantric practice and since I did take the Kalachakra initiation in Bodhgaya (even though I didn't really know what was going on most of the time), it was technically ok for him to take me on as his "consort." Which sounds patriarchal and stuff I know, but that's what they call it. I hope I hear from you soon Evan. I just need to figure out how to charge this Treo . . .
Ella
From: "Evan McAllister" <glassyzen@yahoo.com>
To: "Ella Paris" <ellaparis@hotmail.com>
Date: Wed, 16 Mar 2005 09:50:56 (IST)
Subj: phate
dear ella,
i can't believe you're using a treo in a cave. that's impressive, most impressive. so . . . what does being a "consort" actually entail? is it what i think it means? you know, in a past life, hearing that you're once again with some other guy would've made me jealous. but i can't be concerned with such lower instincts as lust and envy anymore. why? because i'm in pursuit of the final desire: the desire for true freedom, for purest and utter annihilation in the unblinding radiance of God. i'm also still practicing celibacy, so i try not to think about you too much.
it's nice that you have such a "beautiful" guru, but it takes a lot more to be a real guru than just good looks. ella, my friend, i think i've finally found MY guru—a wise mahayogi whose name is PILOT BABA. you're never going to believe how i found out about him . . .
last saturday i was hiking behind the old t.m.* ashram here in rishikesh, where the beatles went on retreat with the maharishi in 1968. the sun was scorching hot, so i sat down to rest in the shade of a tree. after a few minutes, i opened my eyes and noticed an old, purple, water-damaged book lying at the base of some tall bushes. i walked over to pick it up, and amazingly, the instant i touched it, i felt this intense wave of meditative consciousness wash over me! opening the book to its title page, i slowly read it out loud: "HIMALAYA UNVEILS MYSTERY by Pilot Baba."
after i hiked back down to the river and bought some bottled water from old man ravindra, he saw the book i was carrying and his eyes lit up. "evan!" he said excitedly, "that is a most miraculous book! where did you find it?" i was surprised that he'd even heard of it and asked him what he knew of the author. he said: "pilot baba is a great yogi and master of spiritual powers!" i asked him what he meant, and he said, "mahayogi baba can levitate, walk on water, stop huge rolling boulders with his hands, and even travel to alien planets on the astral planes!" "really?" i asked. "oh yes!" he exclaimed. "pilot baba is a great master of kriya yoga and samadhi.** he has perfect mastery of body and mind, and is able to remain sealed behind glass, underwater, or even underground for long periods of time. and look—!" he pointed to a poster taped to the back of his cart—"he is coming to nearby haridwar to give a samadhi demonstration in just two short weeks!"
and that's when it hit me, ella! that's when i just fell to my knees and burst into tears, overcome by the realization that he's the ONE! he's the one i've been waiting for all this time!!!
evan
[*T.M. = Transcendental Meditation]
[**Samadhi = A state of blissful, meditative absorption in the Self that exists beyond the body and mind.]
From: "Ella Paris" <ellaparis@hotmail.com>
To: "Evan McAllister" <glassyzen@yahoo.com>
Date: Fri, 18 Mar 2005 15:28:14 (IST)
Subj: tantra 101
Attachment: union.jpg
Dear Evan,
Pilot Baba sounds pretty interesting. Has he ever performed in Las Vegas? He reminds me of this strange guy I saw once who called himself "The Experimentalist." He could do disappearing tricks and bend spoons and stuff. I saw his show when I went to Vegas a couple summers back, remember that? Seems like so long ago . . .
Tomorrow Terso and I are going on a two-day fast—no water or food whatsoever! Around this time of year a lot of Tibetan Buddhists do it in honor of the Tibetan deity of compassion called Avalokitesvara and the nun who started it was a yogini or female Tantric master named Bhiksuni Laksmi. We have to do all kinds of prostrations and prayers and recite particular mantras for hours. I spent a long time today translating this one written by Laksmi.
Fragrant and white as a snowy conch shell,
You hold a glistening rosary of immaculate pearls.
You are adorned by the beauteous blush of dawn;
Like a lotus lake, your hands exude nectar.
Isn't it beautiful? You have no idea how sensual and inspiring Tantric texts are, not to mention all the incredible visualizations of Tibetan deities, bodhisattvas, Dakinis and Dharmapalas that are part of Tantric practice. Terso has had me doing 3 hours of meditation every day on specific mandalas and gods that he thinks will help in the expansion of my conceptual boundaries. I really don't blame you for having a lot of misguided ideas about Tantra. People always think it's just a way to have great sex but nothing could be further from the truth. For thousands of years Tantra has been the most direct path to higher awareness, and enlightenment—the realization of emptiness. But what's so interesting about it is that you discover emptiness through passion. Isn't that amazing? In the Western paradigm these two things don't mix but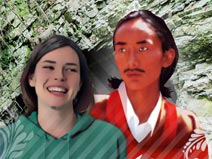 in Tantra, passion and the exploration of the human senses are a source of knowledge, tools through which enlightened Buddha-hood can be manifested. All of the sex is a way to transform worldly passions into a state of real bliss and enlightenment and the understanding that emptiness is the true nature of everything—whether sacred or "profane."
God it's just so unbelievable that I'm learning all of this now. Every day is a revelation. Look at this picture I took of me and Terso on my Treo. Don't we look cute?!
Ella
From: "Ella Paris" <ellaparis@hotmail.com>
To: "Evan McAllister" <glassyzen@yahoo.com>
Date: Sun, 20 Mar 2005 10:03:26 (IST)
Subj: ...
Dear Evan,
I'm starving. Only thirty hours into the fast. Can't concentrate on anything besides my stomach.
Ella
From: "Evan McAllister" <glassyzen@yahoo.com>
To: "Ella Paris" <ellaparis@hotmail.com>
Date: Mon, 28 Mar 2005 17:09:33 (IST)
Subj: hello from haridwar
hi ella,
wow, i guess if you can't renounce sex, at least your practice still allows you to renounce something. thank you for explaining tantra to me—i honestly didn't know it was a serious spiritual practice. if we ever see each other again, maybe you can give me some private lessons. ;)
right now i'm in a small cybercafé in haridwar, the city nearest to rishikesh and perhaps equally renowned for its holiness. it feels like my life is swirling in a mysterious whirlpool of destiny and revelation. last night in my hotel room, after i spent two hours chanting the name of my imminent master, mahayogi pilot baba, i drifted off to sleep—only to wake up with a start in the middle of the night. guess who was hovering above me with his legs crossed in lotus position and an ethereal purple glow surrounding him?? pilot baba! i was absolutely terrified. after what was probably only a couple of minutes—but seemed like forever—he opened his eyes and looked at me with this harsh, piercing gaze. he said very clearly: "i have come to destroy you, and to create you anew." i closed my eyes tight, and when i opened them again it was already morning, and baba was long gone . . . isn't that amazing? he's coming here tomorrow, ella!! and i'm more convinced than ever that he's the ONE.
take care.
evan
p.s. thanks for the pic of you and your personal sex trainer . . . er, i mean, uh, "guru."
From: "Ella Paris" <ellaparis@hotmail.com>
To: "Evan McAllister" <glassyzen@yahoo.com>
Date: Tue, 29 Mar 2005 20:42:17 (IST)
Subj: The Fire Offering
Very funny, asshole. I think the last email I sent you was when I was in a really bad place during the fast. I was just so thirsty and tired and miserable. I shouldn't have even been writing to you but I was going stir crazy with all the repetition of meditating, praying for hours on end and kneeling constantly. Believe it or not though, something incredible happened at the end of it all. Terso and I had what's called a "fire offering" ceremony. I prepared a big Tantric feast, a ganacakra, for the two of us with flowers and butter lamps and incense everywhere. They're what's called the "outer" offerings and after those we made a series of "inner" offerings. These ones are a little strange but they start with alcohol (not actual alcohol, it's all symbolic), and five different kinds of meat—dog, horse, cow, elephant, and human. And then there are five nectars. Ok, this is gross but they are: semen, blood, brain, urine, and feces. Obviously it's all metaphorical and everything. After all of that you begin to make the "secret" offering. This part of the fire ceremony began with Terso and I doing a series of protective visualizations, almost like creating a sacred space where you imagine an atmospheric bubble or a wall of flames around the two of you to block out negativity. After that we sat on the bed and meditated while looking into each other's eyes in order to cultivate single-minded concentration. During this time Terso was consciously acknowledging me to be the embodiment of female divinity and I was recognizing Terso to be the living embodiment of Buddha awareness. It's almost like, by seeing each other as holy beings the act of lovemaking is experienced at its highest potential—as a kind of worship and reverence of the sacred. During the actual act of Tantric union and as we attained the ultimate form of "earthly" pleasure we both made the "secret offering." In a way, it just means offering all of the bliss and pleasure that you experience as a gift to all the Tibetan deities and all sentient beings in the universe, but it's also at that very moment that you choose to meditate on emptiness. You renounce any attachment whatsoever to the experience that you are having because you see it as ultimately unreal, empty of any meaning and in doing that you become liberated—you understand true Buddha-hood. Terso has been teaching me about this kind of stuff for weeks now but it was only this time that I actually think I experienced true maharaga or "higher passion"—all attachment and worry seeming to disappear into an overwhelming intensity of bliss, with total happiness pervading the entire cave. But it wasn't "happiness," it was more than that, something that I've never ever tasted before. It was then that I saw all of these swimming deities surrounding us, green skinned and red skinned, naked and floating in the cave and I saw myself as this being of pure energy, completely freed from my body. I was actually watching myself from above, like a real out of body experience! It was totally incredible. Afterwards Terso and I meditated through the entire night before finally falling asleep at dawn.
In Love,

Ella
From: "Evan McAllister" <glassyzen@yahoo.com>
To: "Ella Paris" <ellaparis@hotmail.com>
Date: Tue, 5 Apr 2005 12:08:59 (IST)
Subj: salvation
jesus, ella. . . i think i saw something like that on the x-files once. you returned to your body, right? if i may ask, where did you get elephant meat? or human meat, for that matter?!? i really hope you know what you're getting yourself involved in. oh by the way, i feel terrible about it now, but your email kinda freaked me out, and in a fit of inner turmoil i forwarded it to your mom . . .
as for me, i'm walking the path of purification (interesting concept, hmm?). and after finally meeting my master this past weekend, the path has gotten a whole lot shorter . . .
it was during hour 52 of mahayogi pilot baba's samadhi demonstration that my mind was blown into oblivion. it was dark, but there were still a few hundred of us left—all gathered around the completely airtight glass chamber in which pilot baba sat utterly motionless, as if dead. he was demonstrating the ultimate power of meditation—to control the body, master the mind, and remain absorbed in the infinite stillness of samadhi, a state that western science would consider clinically "dead." i just stared at him continuously, day and night. and i was still standing up against the glass chamber, contemplating the depth of his spiritual power . . . when he spontaneously DISAPPEARED, right in front of my eyes!!! when it happened, this "gasp" went through the entire crowd, and this powerful SURGE of kundalini energy rushed from the bottom of my feet up through my spine and out the top of my head—only this time, i wasn't scared at all. two people to my left fainted, and others in the crowd began crying. but i just stared at the spot where master baba had been sitting and grinned, thinking over and over: "he's my guru, he's my guru, he's my guru."
all through the night and for most of the next day, pilot baba was nowhere to be seen. even his disciples began to worry about him. in the evening i was standing with my hands pressed against the glass, watching for pilot baba to reappear and to come out of samadhi at 6:00pm, exactly as he'd predicted he would. but 6:00pm came and went. then 6:01 and 6:02. i was beginning to feel extremely disappointed and tears even welled up in my eyes (i think partially because i'd hardly slept in three days). by 6:04 i was openly weeping and was about to stagger away and sit down when i realized that—duh!—my watch has been set five minutes fast since i left california! i spun back around just in time to watch, awestruck, as pilot baba slowly faded back into existence, materializing just a few feet in front of me! he sat there on the other side of the glass, his eyes open, smiling at me . . . and i suddenly felt very lightheaded and collapsed to the ground.
ella, you can't imagine what the past couple of days have been like, being with the mahayogi, being with his students . . . it's like another world! i haven't eaten much in days, but i feel completely energized. i'm so excited i can hardly sleep anymore! i told master baba this last night, and you know what he said to me? "that is not a problem. soon, i will initiate you into the ways of kriya, and you will learn to remain in the ever-awake state of blissful samadhi." i asked him if that means that one day, i too might be able to hold my breath for days on end, whether sealed in glass or deep underground, and he said simply: "the works that i do, you can do." ella, isn't that amazing??!!!
love,
evan
From: "Ella Paris" <ellaparis@hotmail.com>
To: "Evan McAllister" <glassyzen@yahoo.com>
Date: Sat, 16 Apr 2005 19:13:35 (IST)
Subj: wtf
Great. Just great Evan. That's exactly what I needed on top of everything else—my mom learning about the most intimate sexual encounter of my life. Thanks a lot. Things have gone from heaven to hell in the blink of eye up here in this shitty cave. Last night, Terso informed me that we're to be joined by another person in a week. A WOMAN. Her name is Marjorie. Marjorie Steinberg and she's from freaking New Jersey! Can you BELIEVE IT? I can't stay here with another woman! There's no way!
The truth is Evan—I'm desperately crazy about Terso. I'm talking about a majorly debilitating crush, a godzillaesque passion. At this stage I can hardly look at him without blushing and breaking out in a cold sweat. This has never happened to me before! I know I said in my last email that I had that amazing experience when I was free of attachment and lust but they're BACK. I mean, it's every little single thing about him—his Tibetan accent, his robes, his mannerisms. Being in this cave for the past month has just intensified it exponentially so that it's all I ever think about.
But if he thinks for a minute I'm going to stay here while he "initiates" some girl from New Jersey into Tantra well then he's a bigger pervert than my last spiritual "teacher" and that's a pretty hard thing to top. I mean, what am I supposed to think? I cook his food, wash his clothes for him and clean this stupid cave—am I his Tantric consort, someone whom he esteems as the archetype of female sacredness? or someone he keeps around to do chores?! Oh God . . . am I somebody he just has sex with?! He says that I just have to keep going deeper into my practice, that dealing with this uprising of emotion and transforming it into wisdom is an unavoidable step toward living the Vajrayana for real. But I'm starting to seriously suspect his motives. Which, by the way, is a major violation of one of the first Tantric vows—doubting one's teacher. So I guess I'm totally screwed. What the hell am I supposed to do?! I need to seriously get out of here. I would escape after dark but I have no idea where I am. I'm stuck. Stuck in a stupid cave.
From: "Evan McAllister" <glassyzen@yahoo.com>
To: "Ella Paris" <ellaparis@hotmail.com>
Date: Wed, 27 Apr 2005 20:01:19 (IST)
Subj: a new beginning
dear ella,
how the hell do you always find yourself in these absurd situations? is this guy holding you hostage or something? can't you just tell him you want to go home?
i have to tell you something awesome. late last night, one of pilot baba's disciples told me that pilot baba was in his room waiting for me. when i got there, i was escorted inside, where i saw master baba sitting on a chair at the end of the room. he indicated that i should sit at his feet, and i did so. what happened next is hard to describe . . . i was looking up at him, staring into his eyes, when the whole room started shaking around us! we were absolutely motionless—almost like we were suspended in the air—while the floor, the walls, the world outside the window, and all objects i could see started vibrating and shaking and bouncing all over the place. and it definitely was NOT an earthquake (trust me, i know—i'm from california). i can't imagine what the expression on my face must have been, but master baba laughed and told me to remain calm and to keep staring into his eyes, breathing in and out slowly in synch with him. it was hard to do so, with everything that was going on, but i made the effort—and as my eyes locked onto his, i felt like i was being sucked into them, and dissolving, dissipating, disappearing. it seemed like only a few minutes had passed by the time he finally closed his eyes, but when i looked away...the sun was shining outside! i couldn't believe it. i realized i must've been absorbed in that state for almost six hours!
eventually, master baba opened his eyes again and said, very softly, "you are ready to come with me." where? to his ashram in the himalayas!! it's at some place called "tala gethia" near nainital, and i'm leaving for there on sunday! god, i feel like my life is just beginning. anything is possible!!
with love, peace, and the bliss of samadhi,
evan
From: "Ella Paris" <ellaparis@hotmail.com>
To: "Evan McAllister" <glassyzen@yahoo.com>
Date: Wed, 27 Apr 2005 23:43:06 (IST)
Subj: Re: a new beginning
you're coming to the ashram in tala gethia?! oh my god, evan—that's just a few miles from here!! you HAVE to come get me!